Turning a bright idea—into glowing reality.
When it's in your mind, but it doesn't exist yet, we can help. At Saint James Studios, we work with directors, art directors and producers to capture your vision and create:
Let's turn that idea into reality
---
OUR PROCESS
From frenzied to fantastic in just four steps.
Whether it's a commercial, music video, feature, promo or other important project, this is how your idea will come to life at Saint James Studios: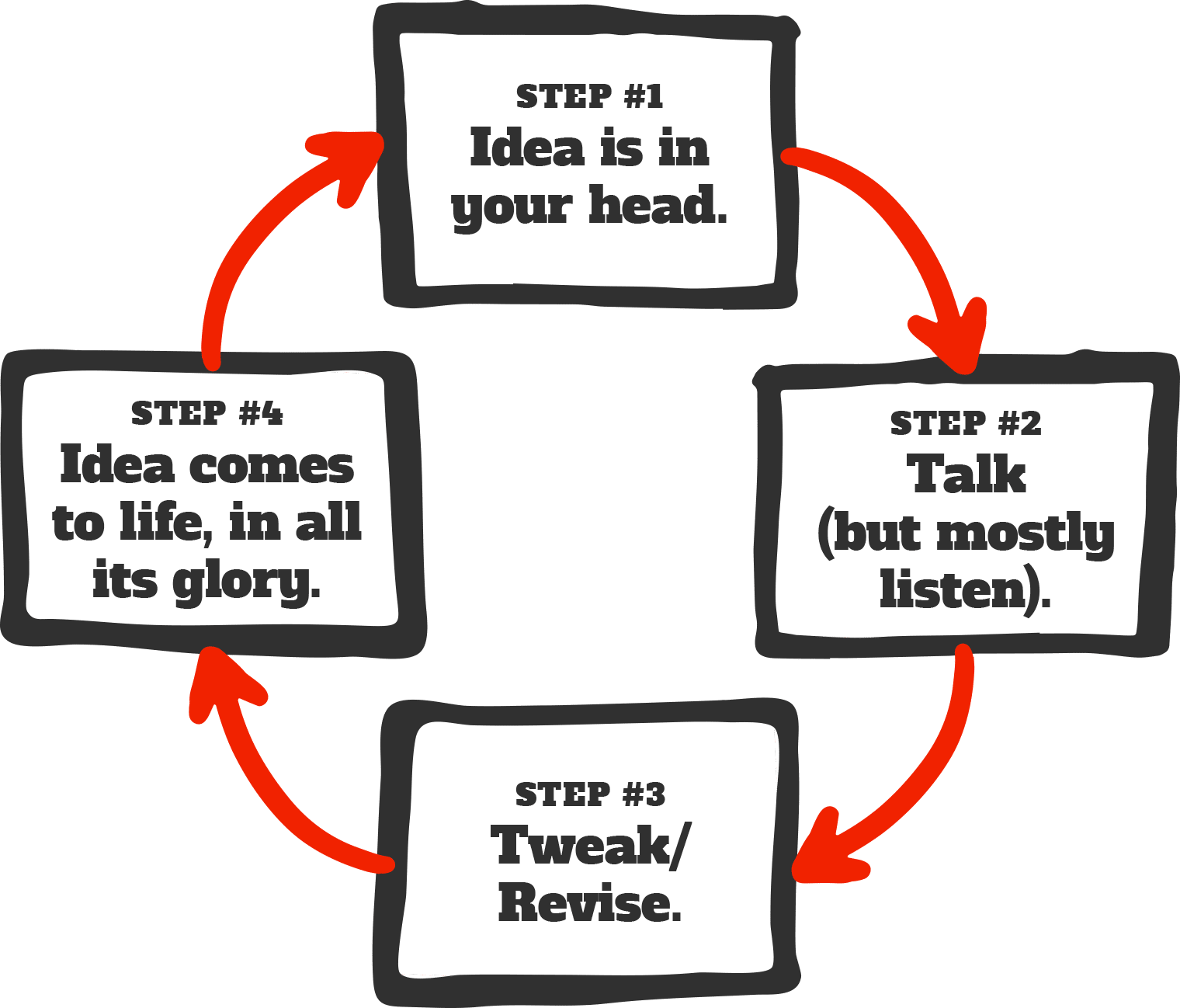 Step 1:
Idea is in your head.
You're probably worried, inspired, frantic, stressed and thrilled all at the same time. You send a creative brief or email about this idea. Yamilca talks money (you pay 50% up front) and schedules a 30-minute phone call or meeting with Joe James or a teammate of your choice.

Step 2:
Talk (but mostly listen).
This is where we take away the burden and the stress. From our studio, we bring the idea to life on paper. You think happy thoughts until our inevitably quick, on-time and exceptional delivery.

Step 3:
Tweak/Revise.
We make it work, with super-snappy turnaround. This is where the visualization gets perfect.

Step 4:
Idea comes to life, in all its glory.
Your idea gets viewed by millions to much acclaim. We cheer you on, delighted to have been part of your team, and hopefully start at Step 1 with you again soon.
Ready to say, "That was easy"? Let's get started.
---
WHY US?
Our most unique offering? Peace of mind.
Sure, clients come to us for storyboards and illustrations—but they also get a cherry on top—relief. So many clients say they keep coming back because they "know it's in good hands." (Speaking of hands, watch Joe's hands in action.) In addition:
We can handle it. Clients come with a tight deadline and a huge amount of pressure on their shoulders. It has to be great! But when it's in our hands, it will be. When it's go-time, we got you.
We listen. We don't just do whatever we want—we work to understand your vision, your idea—and bring that to its fullest and most powerful reality.
We honor the idea. If you are looking for someone who respects the idea at its most basic form—you're in the right place. Our process always starts with intense listening and immense respect.
Ferocious speed. In this industry, things happen fast. Fortunately that's how we work. Quick turnaround times and next day revisions will keep you on schedule.
You get options. We want your idea to shine. If we can, we give you suggestions or options to refine your idea.
Expertise. From Macy's campaigns and Super Bowl Commercials, to working with brands like Audi and Gatorade, to Kanye West's outfit, we've done it.
On-budget creative. We excel at meeting budgets while maximizing creativity.